Last week, we held our monthly For Purpose Tuesday session. Two of our graduates presented an overview of their careers to the entire group of For Purpose Graduates. This peer-led learning aspect of our For Purpose Tuesday session is extremely important for our graduates. Not only do they learn about the role of their peers, but they gain insight into another social impact organisation. At For Purpose, learning about other mission-driven organisations is encouraged to gain a broader understanding of their purpose, structure and impact.
Eoghan Cregan Co-operative Housing Ireland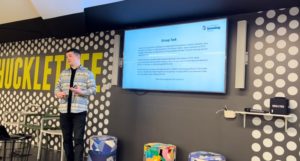 Eoghan holds a particular interest in community development. Therefore, upon completion of his MSc in Sustainable Development, he applied for the role of Housing Officer with Co-operative Housing Ireland. He was offered the role in May 2022, joined For Purpose and has been thriving in his career ever since. Eoghan presented the history of CHI, and outlined his role in detail.
Co-operative Housing Ireland (CHI) is an Approved Housing Body providing over 4,000 high quality homes to low-income households. As a representative body, CHI champions co-operative principles in delivering homes and supporting communities. Co-operative Housing Ireland has been a leader in providing truly affordable homes across Ireland since 1973.
Housing Officer
Eoghan's role as a Housing Officer is extremely diverse. The role requires working on sensitive cases that must be handled with empathy, positive communication and assertion. He outlined the diversity of his role across the following areas:
Arrears & financial inclusion
Calling members, issuing arrears, engaging with the RTB for mediation or termination, offering support.
Neighbourhood safety & social inclusion
Addressing anti-social behaviour across estates and creating inclusion programmes in conjunction with other public services.
Easing the strain of the housing crisis
Providing families with the opportunity to a 'forever home', as long as they upkeep the rules of their tenancy agreement.
Ensuring the CHI estates are maintained to a very high standard. Engaging with contractors, monitoring  the condition of the estates, addressing repair requests.
Group Task
Towards the end of his presentation, Eoghan provided a group task for our graduates. He presented a scenario where our graduates had to address a difficult member of CHI. He asked how our graduates would approach the situation, and potential solutions to this issue. This allowed our graduates to consider the best way to approach potentially vulnerable members of society, even if this is not directly related to their job.
Niamh Fennell, Jigsaw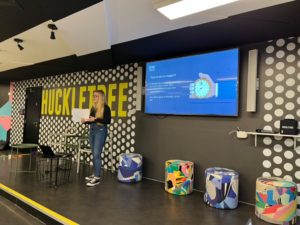 Our next graduate speaker was Niamh Fennell, Youth Voice & Engagement Officer at Jigsaw. At the age of 16, Niamh became a Jigsaw Youth Advocate in her local Jigsaw service. Upon completion of her BSc in Community and Youth Work, Niamh applied for the Youth Voice & Engagement Officer role in February 2022, was successful, and joined For Purpose.
Jigsaw is the National Centre for Youth Mental Health. They believe a better life is possible for the hundreds of thousands of young people across Ireland facing mental health difficulties. They provide online and in-person services around Ireland. This advice and support is made available to young people, aged 12–25 years-old.
Group Task
Niamh presented the Lundy Model of Participation (see below). This framework is a useful starting point for supporting children's participation. Niamh asked our graduates how they can use this same framework in their own organisation – by acknowledging space, voice, audience and influence. Niamh made the learnings from her job applicable to all of our graduates by sharing this useful framework. Our graduates acknowledged how this model of participation could be extremely useful in their roles, from engaging members in workshops to setting up focus groups.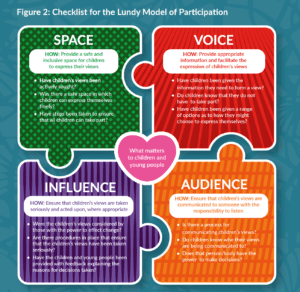 Niamh's role
As the Youth Voice & Engagement Officer, Niamh's main responsibility is how to engage with youth when communicating and ensuring their voice is heard. Niamh's role is also very diverse, covering areas such as:
Representing her team as their youth voice
Public speaking
Youth voice engagement via events
Professional youth training training
What's next for our graduates?
We'd like to extend a massive thanks to Eoghan and Niamh for presenting an overview of their careers at For Purpose Tuesdays. These learning sessions present valuable learning for our current For Purpose Graduates. As Eoghan continues to develop his career as a Housing Officer, Niamh will be returning to full-time education to study Social Work at Maynooth University. We wish them both all the best in their future mission-driven careers!
For more information on our programme, visit here or contact Head of For Purpose, Dr. Rhonda Wynne, directly.
https://forpurpose.ie/wp-content/uploads/For-Purpose-Tuesdays-1-1.png
800
2400
O'Boyle Eilis
https://forpurpose.ie/wp-content/uploads/FOR-PURPOSE-FINAL-LOGO_2022_no_background-1.png
O'Boyle Eilis
2023-03-21 15:40:18
2023-03-22 15:28:23
Graduate Presentations with Purpose