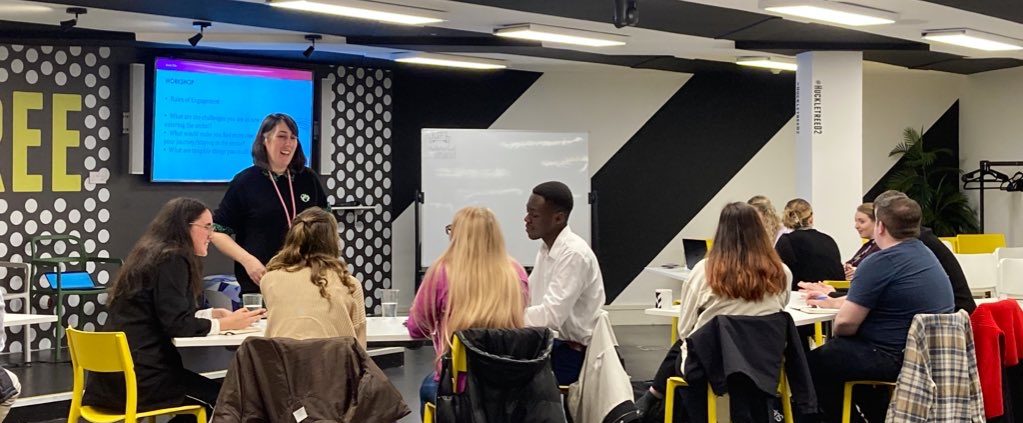 Last week, we had a fantastic For Purpose Tuesday session with Sharon Hughes. Sharon is the Leadership Academy Manager at The Wheel, bringing leaders from Irish charities, community organisations and social enterprises together to learn and inspire each other.  
Sharon has substantial experience within education. Her experience includes lecturing at Eden College at the beginning of her career, to joining TU Dublin for over 17 years as a Student Support Advisor, Development Manager, Events Manager and Chief Executive Officer of TU Dublin's Student Union. We were delighted to invite Sharon in to chat to our graduates, the future leaders of the nonprofit sector, about leadership development. 
Leadership Academy
The Leadership Academy provides opportunities to have conversations about the key leadership challenges and to find relevant, cutting-edge leadership development opportunities, networking, training, information and support. The Leadership Academy provides key resources such as Leadership Schools, Leadership Library and Leadership Blog. These 3 elements enable skills reflection, provide support for your development and expert advice within the sector. 
For Purpose Tuesdays Session with Sharon
Sharon engaged with our graduates by asking the challenges of entering the sector as a graduate and how to encourage young people to work in the nonprofit sector. As previously noted in, 'Graduate Careers: 5 Reasons to work in a nonprofit', graduates entering the nonprofit sector are not usually monetarily motivated. The opportunity to work for a mission-led organisation, make a difference, and growth opportunities within the sector are more motivating factors.  
Despite this, our graduates discussed other non-monetary aspects graduates could be offered to attract them to the sector. Tangible elements such as: paid study leave, managing expectations as a graduate, consistent mentoring opportunities, open communication and feedback loop, continuous personal development. 
Sharon placed our graduates into small breakout groups to discuss entering the nonprofit sector. She asked some of the following questions:
What are the challenges our graduates see when entering the nonprofit sector?
Low salaries

Job stability

Unclear expectations in your role

Lack of constructive feedback due to overstretched managers

Gaining a seat at the table

Gap between experienced staff and new graduates due to Covid

Lack of involvement due to "lack of experience"

 
Ideas for improving graduates' experience in nonprofit sector
Offering KPIs 

 
More intergenerational learning 

 
Flexible working 

 
Clearer paths for progression

 
Seeing the impact of your work

 
More networking opportunities 

 
More CPD

 
Non-paid benefits – statutory e.g. bike to work scheme

 
Contact Us
This was a fantastic opportunity for our graduates to speak openly about their experience in the nonprofit sector. It provided a discussion around expectations as graduates and how organisations can aid their career progression. For more information on For Purpose Tuesdays, or our graduate programme, visit our website or contact Rhonda Wynne.
https://forpurpose.ie/wp-content/uploads/IMG_1642.jpg
647
1023
O'Boyle Eilis
https://forpurpose.ie/wp-content/uploads/FOR-PURPOSE-FINAL-LOGO_2022_no_background-1.png
O'Boyle Eilis
2022-11-14 16:39:11
2022-11-15 12:08:56
For Purpose Tuesdays with Sharon Hughes