Emma Morgan, Business Analyst for Pobal, lead our For Purpose Tuesdays session yesterday. This was a fantastic opportunity for our graduates to learn from an experienced manager, business analyst and board member in the nonprofit sector, with specific experience in strategy, governance, development and support in recruitment.
Emma is one of our For Purpose mentors, with experience in professional development and people management. This was a great opportunity for some of our graduates to meet their mentor in person and learn more about her broader experience.
About Pobal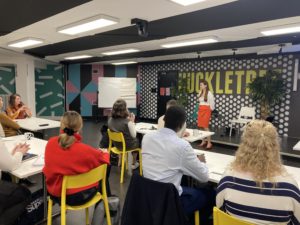 Emma joined Pobal as a Business Analyst in November 2021. Pobal works on behalf of the government to support communities and local agencies toward achieving social inclusion and development. They work in social inclusion, early childhood and education, community development, peace and reconciliation, equality, labour market supports and education and training.
Emma gave an overview of her experience in Pobal, focusing on the process of transforming policy into action. She provided a programme example within the childcare sector, describing the actors involved during the implementation of a policy. From the customer, through to the compliance and reporting stage, Emma outlined the project steps. Learning each step of policy implementation is extremely beneficial for our graduates, many of whom are interested in wider policy development in the nonprofit sector.
Graduate Interactive Task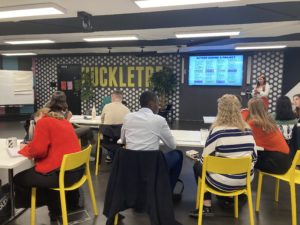 Emma placed the graduates into breakout groups to participate in an interactive task. The graduates were asked to highlight a current societal issue which could benefit from government support. Afterwards, they dissected the policy into actionable steps. Once completed, the group had to present a summary plan to the rest of the graduates.
Each group presented their chosen societal issue from mental health, to the current housing crisis and more. This gave our graduates an opportunity to consider the most pressing issues in our society, how to address them and start a conversation with their peers.
The graduates finished their session by grabbing a coffee and donut, discussing their learnings from the session and catching up on recent work projects. Our For Purpose Tuesdays sessions are not only beneficial for graduate learning and idea generation, but for connecting on a personal level with other graduates in the nonprofit sector, particularly since Covid.
Learn more
We had a fantastic learning seminar with Emma, learning more about policy implementation in the nonprofit sector. To learn more about For Purpose Tuesdays and the structure of our programme, visit here, or contact Rhonda Wynne directly.
https://forpurpose.ie/wp-content/uploads/Copy-of-For-Purpose-Tuesdays-2.png
800
2400
O'Boyle Eilis
https://forpurpose.ie/wp-content/uploads/FOR-PURPOSE-FINAL-LOGO_2022_no_background-1.png
O'Boyle Eilis
2022-10-12 14:17:11
2023-04-11 13:52:54
For Purpose Tuesdays with Emma Morgan