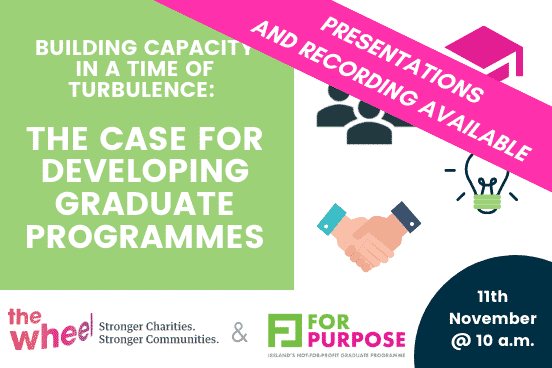 Building capacity in a time of turbulence – the role a graduate programme can play, was the topic of a recent webinar hosted by The Wheel. Participating on the panel were Darren Ryan, CEO with Social Entrepreneurs Ireland, Gavan O'Brien, MD of gradireland, Angela Collins, Head of Careers Services at Waterford Institute of Technology and Adrian McCarthy, Programme Manager of For Purpose.
As Ireland continues to grapple with the COVID-19 pandemic and its wider effects on society, all organisations both commercial and non-profit, are experiencing challenges in talent management. Against the backdrop of the dramatic changes over the past 8 months, this webinar highlighted these current and future challenges for non-profits.
Adrian McCarthy from For Purpose illustrated the framework for Talent Management for non-profits and the best practices, for building capacity in an organisation with graduates, during the pandemic. Against the backdrop of 83% of employers reporting Skills Shortages as being a major challenge for their organisation, the importance of strategic planning for talent management cannot be overstated (CIPD's HR Practices in Ireland Survey 2020). Some organisations are actively managing their talent funnel, with 46% of employers planning to maintain or increase graduate recruitment this year (AHECA Graduate Market Survey 2020).
The benefits a graduate programme bring to an organisation were summarised as:
The graduate is trained in your organisation's way of working and culture, "grow your own"
Skill Development within the organisation and transfer of those skills
Retention is higher when a graduate joins as part of a programme
Capacity building of talent in the organisation, nurturing managers of the future.
Drawing from the experience of Social Entrepreneurs Ireland's graduate intakes over the last couple of years, Darren Ryan, noted the quality of graduate applying to roles specifically advertised as graduate programmes is notably higher than those not. Recognising that talented people are what makes a real difference in all organisations, not only non-profits, Darren believes we can't let the future of the sector up to chance. There is a need to develop, manage and attract top talent enabling the not-for-profit sector to make real impact into the future. Having a graduate programme in place facilitates the required mentoring and coaching of our future leaders of the sector.
Gavan O'Brien from gradireland stated graduate recruitment will certainly contract this year as a result of Covid 19. gradireland estimates there will be a 35% contraction based on the same period in 2019 of graduate roles across all sectors (private, public & not-for-profit). Some private sector graduate programmes, particularly in the tourism and hospitality sector have reduced their intake of graduates this year.
When comparing this period of uncertainty to previous economic downturns, the employers who closed their grad programmes experienced a negative impact on their future pipeline of graduates. Gavan said, "Those that closed their programmes, faced a very difficult task of reintroducing their brand to the students they wanted to engage with when they started hiring again."
Current Graduate programmes are for the most part, remotely on-boarding their new graduates, this move online is something that all organisations are managing for all new staff. Induction in terms of logistics and technology requires a new approach, for this year's intake of graduates.
What can employers do to help their graduates adapt to the changing working environment? Angela Collins recommended that employers recognise their graduates have adapted and developed their skills so they could continue their education during Covid, left college in a period of uncertainty and have entered the world of remote working. Many will need a boost of confidence, look for a sense of belonging and connection, being part of a graduate programme would help these new graduates find their feet.
It was noted that other sectors receive state support to develop graduate programmes for example Enterprise Ireland for Irish enterprises, Bord Bia for Agri-food and IDA Ireland for Irish international businesses. There is a case to be made for similar state-funded support for the development of graduate capacity building in the not-for-profit sector.  A discussion on this topic has commenced with The Wheel and a number of organisations within the sector. If you are interested in helping to build this case for support, please contact Adrian McCarthy.
For a copy of the presentations or for more details please contact Adrian McCarthy 087 – 910 3872 adrian.mccarthy@forpurpose.ie
More about For Purpose programme
https://forpurpose.ie/wp-content/uploads/The-wheel-Presentations-and-recording-available.png
368
552
FPadmin
https://forpurpose.ie/wp-content/uploads/FOR-PURPOSE-FINAL-LOGO_2022_no_background-1.png
FPadmin
2020-11-12 00:15:02
2020-11-12 22:47:04
Building capacity in a time of turbulence – Webinar