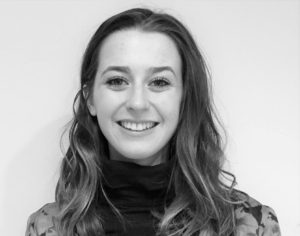 SIX MONTHS AFTER STARTING WITH ACTIONAID IRELAND, JULIANNE FLYNN TALKED TO FOR PURPOSE ABOUT HER EXPERIENCE OF THE PROGRAMME
FOR PURPOSE: WHAT DID YOU STUDY IN COLLEGE?
Julianne Flynn: I studied Sociology and Social Policy at Trinity College Dublin, with a year abroad at the University of Melbourne.
This course is essentially a mixture of social theory, economics, politics, and social research methods. It's the systematic study of society and how policy shapes our lives.
FP: WHAT SPARKED YOUR INTEREST IN THE NOT‐FOR‐PROFIT SECTOR?
JF: There wasn't a lightbulb moment per se, but rather a deep belief in equality and justice. Having spent four years analysing the various ways in which gender, race and class systematically produce and reproduce inequalities, the not-for-profit sector appealed to me as it presents a productive way to challenge these forces.
In a world of rising populism, income inequality, and climate change – the not-for-profit sector and civil society are essential gatekeepers for democracy. Having campaigned for the Marriage Equality in 2015 and then 'Together for Yes' in 2018, I saw how civil society led the way in demanding governments to act – and I knew I wanted to be part of it.
FP: WHEN AND HOW DID YOU FIRST HEAR ABOUT FOR PURPOSE?
JF: I heard about For Purpose through gradireland.com. It came at a time where I was beginning to question why I followed my passion (instead of studying something with a concrete 'career path'), so I was really excited to finally find a graduate opportunity that suited me.
FP: HOW DID YOU PREPARE FOR YOUR INTERVIEW WITH FOR PURPOSE/ACTIONAID?
JF: There is so much information available right at your fingertips. ActionAid has all their strategies and publications online and I remember spending hours reading through them – out of pure interest as much as anything else. I think this really stood to me during the interview process. I also monitored ActionAid's social media pages, so I was up to date with campaigns and events.
For the interview, I was asked to give a presentation on how to develop ActionAid's 'tax-back' campaign. I spent a great deal of time familiarising myself with the scheme and analysing the strengths and weaknesses of ActionAid's campaign and comparing it to what others in the sector were doing.
FP: WHAT WAS YOUR FIRST MONTH IN ACTIONAID LIKE?
JF: I started in December – a notoriously busy time in the not-for-profit sector. ActionAid had just sent out an appeal for donations and board reports were looming.
It was a steep learning curve, but I was given loads of training and immediately felt welcome and supported.
FP: DESCRIBE WHAT YOU DO ON A TYPICAL DAY?
JF: Today, I spent the first half of the day writing a newsletter to be sent to ActionAid supporters and after lunch, I managed the recruitment for a vacant position at ActionAid.
Given the multifaceted nature of my role, no two days are the same. This has proved useful as I now have experience in a wide range of areas, from campaign management to copywriting.
I go to work each day feeling like I'm making a tangible difference to ActionAid Ireland – and that is tremendously rewarding.
FP: WHAT HAS YOUR EXPERIENCE OF WORKING IN THE NOT‐FOR‐PROFIT SECTOR BEEN SO FAR?
JF: Fantastic! I love being surrounded by inspiring people who are eager to make a difference. I've also been impressed with the way the sector works together in sharing ideas.
FP: HOW HAVE YOU FOUND THE EXPERIENCE OF BEING A PART OF FOR PURPOSE?
JF: I feel really lucky to be part of the For Purpose programme. The monthly mentoring sessions have proved really useful for general tips and advice. The roundtable discussions also provide great insight into various aspects of the sector.
FP: FOR ANYONE THINKING ABOUT APPLYING TO THE FOR PURPOSE PROGRAMME, WHAT ADVICE WOULD YOU GIVE THEM?
JF: Just go for it! It may feel daunting and you may feel inexperienced, but you'd be amazed by how much you can learn when you're thrown into the deep end. I think this programme would suit anyone who is passionate about social issues and eager to make a difference.
https://forpurpose.ie/wp-content/uploads/julianne-image-1.jpeg
1306
1660
FPadmin
https://forpurpose.ie/wp-content/uploads/FOR-PURPOSE-FINAL-LOGO_21.png
FPadmin
2019-05-01 14:23:33
2019-05-01 14:41:46
Six months in – a graduate's experience of For Purpose