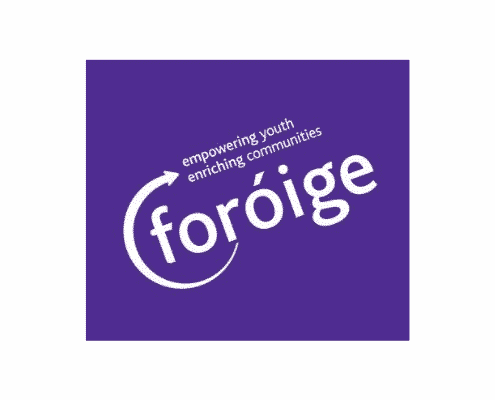 Job Title:                          Programme Coordinator, Foróige Leadership for Life Programme
Type of contract:           12 months
No of hours:                    35 hours per week minimum
Location:                          Foróige, Block 12D, Joyce Way, Park West, Dublin 12
Annual leave:                 29 days per year
Remuneration:              €24,277          
About For Purpose
For Purpose is Ireland's non-profit graduate programme. We connect talented graduates who are looking to make a real impact in their careers with organisations across the nonprofit sector.
Graduate trainees on the For Purpose programme receive one-to-one mentoring and support throughout their traineeship. The programme provides you with the skills and development opportunities to start your career in the nonprofit sector and build your potential.
For Purpose is managing the recruitment process for this role, and the successful applicant will take part in the For Purpose graduate programme.
About Foróige
Foróige is an independent, non-profit national voluntary youth organisation engaged in out-of-school youth development and education. The organisation aims to enable young people to involve themselves consciously and actively in their own development and the development of society. Foróige employs over 500 staff and involves thousands of volunteers in the creation and delivery of high quality services to young people through the operation of over 500 Foróige Clubs, the Big Brother Big Sister Programme and over 150 General Youth Services and Special Projects. These community-based and community-supported initiatives are run throughout the country, in rural and urban environments, and generally in partnership with various voluntary and statutory agencies. The organisation is a registered charity and is supported by a combination of statutory, philanthropic and corporate funding. Foróige is an equal opportunity employer and is committed to a policy of Equality of Opportunity in its employment practices
Foróige is seeking to add a Programme Coordinator (Foróige Leadership for Life Programme) to their team. This role provides an excellent opportunity to start your career in an influential youth development organisation. The graduate will learn about this unique Leadership for Life programme and have an opportunity to learn about programme co-ordination, evaluation and accreditation processes.
Project information
The development of young people as leaders is core to the work of Foróige. Foróige's Leadership for Life programme enables young people to develop the skills and qualities necessary to be effective leaders, as well as challenging them to use these skills for the betterment of society. This evidence informed programme has been rigorously evaluated proving that young people who completed the Leadership for Life programme showed significant improvement in areas such as goal setting, empathy, critical thinking, communication skills, teamwork, problem solving, leadership skills, community involvement, resilience, sibling support, emotional support and esteem support. The programme is facilitated both in person and online in clubs, projects and schools across the country, as well as annually at the Foróige Youth Leadership Conference. Those who complete all three modules have the unique opportunity to apply for accreditation to NUI Galway and receive a Level 6 Foundation Certificate in Youth Leadership and Community Action. Foróige is now in a position to recruit a graduate for the role of programme coordinator.
Key Responsibilities
The duties of the Programme coordinator shall be notified by the Board of Foróige and/or its Chief Executive or nominee. The key elements of this role involve project management and communications and relationship management. The coordinator will:
Project Management
Manage the coordination and administration of the Leadership for Life programme, in particular the registration and accreditation process
Support the Training Officers in the planning, preparation and evaluation of trainings and workshops provided
Assist with the planning and administration of the Leadership for Life annual conference
Produce reports as required including, but not limited to, financial reports, evaluation reports, training and programme statistics, etc
Maintain accurate and up to date records relating to programme participants, facilitators, trainings, etc
Manage the organisation, administration and recording of training for facilitators of the Leadership for Life programme
Communications and relationship management
Serve as the first point of contact for all Leadership for Life programme queries and respond to same in a timely manner
Work with the other members of the Leadership for Life team and larger Training Learning and Development function of Foróige
Maintain and develop relationships with stakeholders
Do you fit the profile we are looking for?
Minimum level 8 degree in any discipline
Excellent planning and organisational skills
Excellent standards of accuracy and attention to detail
Excellent IT skills, in particular the use of Google suite
Excellent communication and team working skills
Ability to communicate effectively, including ability to draft summary information and correspondence
Strong commitment to teamwork
Excellent interpersonal skills, including ability to liaise with a wide range of stakeholders and to build and maintain effective working relationships.
Ability to be proactive, use own initiative and work effectively within a pressurised environment
Permission to work in Ireland
Requirements of all Foróige staff
Commitment to the purpose of Foróige and to work within the values, policies and procedures of the organisation
To act consistently in a professional manner at all times.
To participate in regular supervision with your line manager.
Flexibility in relation to hours of work to meet the needs of the work. Work during unsocial hours may be required.
Identify training needs with your line manager and participate in training opportunities appropriate to the role.
To undertake other duties as may be requested by Chief Executive Officer of Foróige or their nominee from time to time.
If your ambition is to work in the nonprofit sector with an organisation committed to youth work and youth development, then we would like to hear from you. The closing date for applications is Friday 6th January, at 5pm. To apply, please send your CV and a succinct cover letter (both in word document format only) to Aoife.duff@forpurpose.ie.
For more information on this position, see our previous graduate, Gavin Murphy, discuss his experience as he continues his career with Foróige.