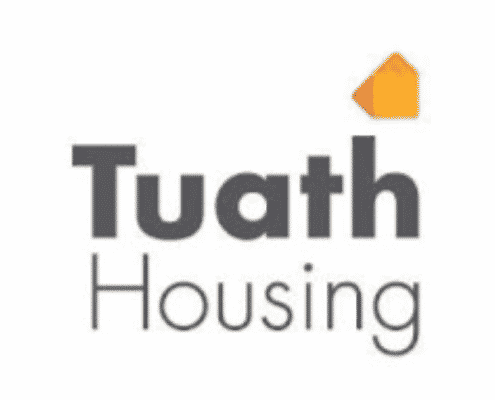 Role title: Graduate Data Analytics & Statistics Administrator
Responsible to: Responsive Repairs Manager
Location:  Tuath Offices, 33 Lower Leeson Street, Dublin 2. Tuath Housing utilise a hybrid working policy and this role will be based at our Dublin office with some home working.
Duration: Full Time/Fixed term – 12 months
Hours: 37 hours per week, full-time, Monday to Friday.
Remuneration: €25,365 with 24 days Annual Leave.
To Apply: Please send your CV and a cover letter to rhonda.wynne@forpurpose.ie (in word doc format only – no PDFs) before 5pm on Wednesday, July 6th, 2022
The successful candidate for this role will participate in the For Purpose Graduate Programme.
FOR PURPOSE GRADUATE PROGRAMME
For Purpose is Ireland's nonprofit graduate programme. We connect talented graduates who are looking to make a real impact in their careers with organisations across the nonprofit sector. For Purpose is managing the recruitment process for this role for Tuath Housing.
Graduate trainees on the For Purpose programme receive one-to-one mentoring and support throughout their traineeship. The programme provides you with the skills and development opportunities to start your career in the nonprofit sector and build your potential.
Tuath Housing is seeking to add a driven and ambitious Graduate Data Analytics and Statistics Administrator to its team. This role will be based in Tuath's office in Dublin and will offer the Assistant the chance to join one of Ireland's leading Approved Housing Bodies.
About Tuath Housing
Tuath Housing provides accommodation for single people, families and those with special needs. Since its establishment in 2000, Tuath Housing has grown to become one of Ireland's largest approved housing bodies. The organisation currently provides and manages over 7,300 homes with offices in Dublin, Cork, Galway and Dundalk.
Tuath Housing's motivation is not financially driven. It aims to provide long-term, safe and quality housing, at the best possible value whilst locally building mixed, sustainable communities. Tuath's staff are essential to achieving this aim.
OVERVIEW
As a Graduate Data Analytics and Statistics Administrator, you will work within the Housing / Repairs Services department. The Housing / Repairs Service Department is responsible for ensuring our customers continue to live-in high-quality homes through the delivery of a comprehensive and effective housing and repairs management services.
Your new role will be to analyse clinical and operational data to identify patterns and trends that will be used to improve data collection quality, achieve value for money and assist in developing effective processes. This position will use various blends of analytical, data science and data development skills to assess project objectives and problem statements, understand the data and system landscape, then use this information to design and generate visualisations alongside continuous reporting, implementing data flow tools and improving business processes.
We recognise the need to design our services to meet our customers' needs, ensuring that our tenants and their families always enjoy warm, safe, and affordable homes. This is a great opportunity for a Graduate Data Analytics and Statistics Administrator to further develop their IT, Reporting, Statistical and Business Analysis in a fast-paced environment.
For the right candidate this position is an entry level role with a clear career progression path within one of Ireland's Largest Voluntary Housing Bodies. 
KEY RESPONSIBILITIES
Provide clear analysis to be used across all levels of the business
Apply analytical thinking skills to different issues across the business
Contribute towards the continuous improvement of the business
Attain, combine, and analyse data from the different data sources available to us
Identify repair trends and insights from data
Complete forecasting and model reviews
Track KPIs and ongoing performance
Enter and update data accurately as required
Contribute to compliance projects / business initiatives as and when required.
Collaborate with internal teams to help the organisation meet its strategic goals
Manage, track, and communicate progress/ updates on contractor service delivery efforts
Perform quality assurance checks on delivery platforms and ensure data is uploaded correctly and tools are functioning as expected
Develop / Update Rstudio dashboards as required
Contribute to enhancement of controls and spreadsheets to create monitoring efficiencies
This job description is not definitive or restrictive and will be subject to periodic review as deemed necessary and / or in the light of job-related developments.
PROFILE
We are looking for an ambitious graduate with the following profile:
Specialist Skills
A qualification in IT or Business (with strong IT elements) to at least degree level.
Strong statistical knowledge
An ability to understand and interpret business needs and how they translate to technical and functional requirement
Commercial Awareness
A knowledge of how to gather, manage, and present data manipulation
Knowledge of tools such as R, Tableau, Power BI, Business Objects
Understanding of the analytical use of data within BI and Dashboarding tools for general business consumption or other data specialists desirable
Knowledge of new GDPR Legislation Act desirable
Demonstrable 'ability to think "outside of the box" and innovate
Professional Practice and People Skills
Good project management skills
Excellent planning and organisational skills
Problem solving skills
Ability to work with accuracy and attention to detail and within deadlines
Strong interpersonal skills to work effectively with a variety of individuals and departments
Strong verbal and written communication skills
Ability to be self-motivated and work on own initiative and be part of a team
The ability to handle sensitive and confidential information
Flexibility
Commitment to deliver a high-quality customer focused service
Understanding of and ability to demonstrate the importance of good timekeeping, reliability and taking responsibility for the service delivered to the
If you fit this profile, then we would like to hear from you.
To Apply: Please send your CV and a cover letter to rhonda.wynne@forpurpose.ie (in word doc format only – no PDFs) before 5pm on Wednesday, July 6th, 2022. Please include 'Tuath Housing: Data Analytics' as the subject of the email. For more information on For Purpose please visit our website.